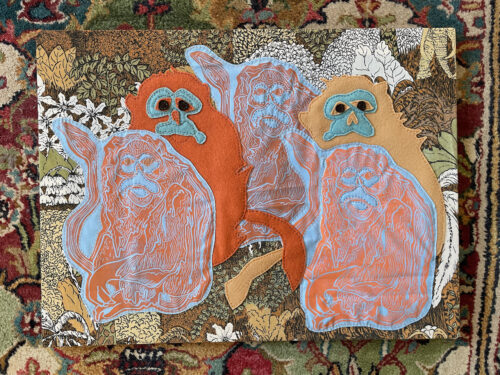 This piece celebrates the Golden Snub-Nosed Monkey, Rhinopithecus roxellana, and its distinctive blue grump-face.
"Buncha Grumps" began with a Soft Kut printing block, meticulously designed and carved. Once carved, the block was hand-printed on cotton and muslin using water-based Speedball printmaking ink.
After printing, each image was then cut to form and arranged on an upcycled vintage fabric background stretched over canvas stretcher bars. There are also hand-pieced felt monkeys amid the printed ones to add visual interest, color, and texture. Each monkey was hand-sewn onto the background with care.
The price of "Buncha Grumps" includes the shipping and handling to U.S. Domestic addresses via the USPS. IF YOU ARE AN INTERNATIONAL CUSTOMER, PLEASE CONTACT ME FOR A SHIPPING QUOTE. INTERNATIONAL SHIPMENTS WILL REQUIRE ADDITIONAL $$ FOR SHIPPING AND CUSTOMS.