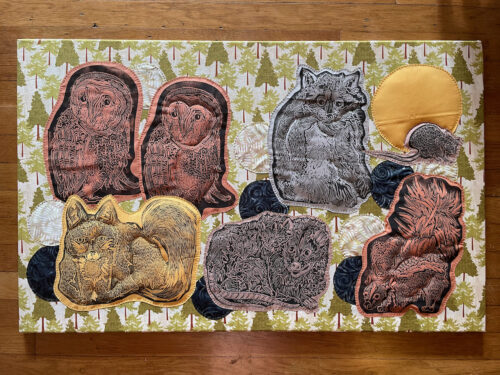 This piece is a celebration of the nocturnal critters that prowl back into the shadows with the rising sun.
"Sunrise" began with six individually carved Soft Kut printing blocks for each animal, meticulously designed to reflect the personality of each animal chosen to highlight. Once carved, each block was hand-printed on cotton and muslin using water-based Speedball printmaking ink.
After printing, each image was then cut to form and arranged on a premium cotton batik background stretched and secured over canvas stretcher bars. The critters were each hand-sewn onto the background with care. Some of the prints have been given a 3-D modeled effect by placing quilt batting behind the image.
The animals I chose to include in "Sunrise" are as follows:
-Vulpes vules (Red Fox)
-Procyon lotor (Raccoon)
-Didelphis marsupialis (Opossum)
-Rattus norvegicus (Rat)
-Mephitis mephitis (Skunk)
-Tyto alba (Barn Owl)
The price of "Sunrise" includes the shipping and handling to U.S. Domestic addresses via the USPS. IF YOU ARE AN INTERNATIONAL CUSTOMER, PLEASE CONTACT ME FOR A SHIPPING QUOTE. INTERNATIONAL SHIPMENTS WILL REQUIRE ADDITIONAL $$ FOR SHIPPING AND CUSTOMS.