Highlights
Woodcuts, oil paintings, watercolors, and ephemera from the collections of Bill and Flo Caddell, Anne Ogden, Hanover College, and Paul Hassfurder
Looped video of Morgan Atkinson's award-winning documentary Wonder: The Lives of Harlan and Anna Hubbard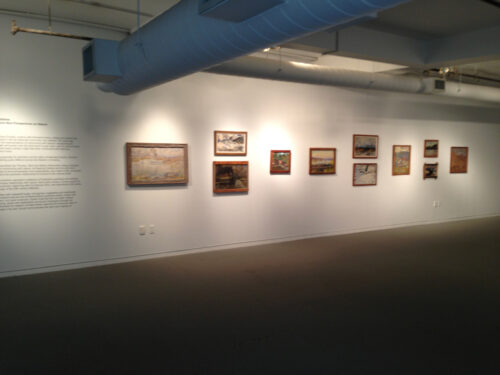 It was a thrill…to feel the life of the river. We became part of it, like the driftwood." Harlan Hubbard, The Shantyboat Journals
In 18th and 19th century Europe, overrun with Romantic frenzy, artists and writers had created a new buzzword in the art historical community: the sublime. The word was intended to describe the transcendence of communing with nature—recognizing its overwhelming strength and power over the diminutive human race—and to communicate the consuming fear and awe a person might feel when confronted with lightning, mountains, oceans and rivers.
But propelled by a propensity for optimism and the ethos of Manifest Destiny, the term came to mean something quite different across the Atlantic in America.
In the tradition of naturalists like Thoreau, Muir and Abbey, Kentuckian Harlan Hubbard began to live a life of communing with nature, not fearing it. Harlan and his wife Anna became new prophets of environmentalism and sustainability, and made it their concerted mission to fully explore the symbiotic relationship of humans to the natural world.
The pieces in this exhibition represent a selection of Hubbard's paintings and writings that explores his complex relationship with nature. Each piece shows a unique aspect of his naturalistic philosophies, beginning with his beloved Ohio, and extending to the towns, people and technology of the 20th century Midwest. Scenes from the recent documentary by Morgan Atkinson, Wonder: The Lives of Anna and Harlan Hubbard, will also be featured.
Out of his world, filled with makeshift boats, homegrown vegetables and handmade comforts, Harlan Hubbard rose as one of Kentuckiana's premiere artists, writers and naturalists. A steward, but never a servant, Harlan lived like the river itself: always changing and evolving, slowly and respectfully carving its impression through the Kentucky hills. Hallmarked by respect, not fear, Harlan captured the American idea of the sublime and made it his own; his art communicates the spirit and majesty of Kentuckiana.